Register or submit a case for UW PACC
About UW PACC
The UW Psychiatry and Addictions Case Conference series (UW PACC) began in July 2016 and is a free, weekly teleconference that connects community providers with UW Medicine psychiatrists, psychologists, and addictions experts. Sessions include both an educational presentation on an addictions or psychiatry topic and case presentations where providers who participate receive feedback and recommendations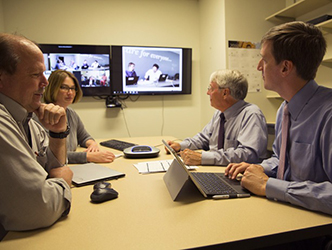 for their patients.
The three main aims of UW PACC are:
Train the fellows to deliver a regional peer learning and support network for treating mental health and addictions across the state of Washington
Expand the mental health and addictions care capacity of health care professionals in remote, underserved areas of Washington
Offer telehealth resource support to build the confidence and skills of providers who care for patients with mental and behavioral health conditions
UW PACC sessions take place Thursdays from 12:00 to 1:30 p.m. PT. Any community providers (physicians, nurse practitioners, physician assistants, and mental health professionals) in Washington State are welcome to join the weekly teleconference. 
You can register for the series here. Participation is free and credit for continuing medical education is available for a nominal fee. 
Please feel free to forward, print, and post this UW PACC flyer.
UW PACC in the News