Amanda Focht is an acting assistant professor in the Department of Psychiatry & Behavioral Sciences and is the medical director of outpatient psychiatry at the University of Washington. Her interests include population-based care, collaborative care, and evidence-based psychotherapies, and she is board certified in both psychiatry and geriatric psychiatry. She teaches on the topics of liability, leadership, and continuing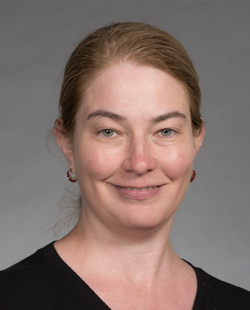 education for both the fulltime Integrated Care Fellowship and the Community-Based Integrated Care Fellowship.
What do you find most satisfying about working on the Integrated Care Training Program (ICTP)?
I have found working with a large group of peers in such a structured, organized way has been really rewarding. To see the whole curriculum come together with everyone's input was amazing.
What are your goals for ICTP?
To continue to refine my didactics to be most helpful.
What led you to where you are today professionally?
I loved reading and became an English major in college. I wanted to go on to graduate school, but talked with some peers who took this route, who felt their work lacked practical, applied applications. While they could teach, they felt removed from making a big positive impact with their work. I mulled this advice over, and decided to do a post-bac to see if a career in medicine might be more fulfilling. Psychiatry did not cross my radar until my clinical rotation in medical school. At that point, I realized that making a cohesive narrative around a patient's story was something I was good at and enjoyed, and that this skill drew on my background as an English major much more than I would have thought any area of medicine could. I will be sitting with a patient to this day and hear one of my literature professors giving advice about how find an idea about a piece of literature that is robust enough to generate a good paper: "It's like finding a loose thread in your sweater and pulling on it until the whole thing unravels." With each new patient I see I look for a similar loose thread and ask myself "What makes this person unique? How can I put together their story in a way that will help me to help them?"
Describe your perfect day outside of work (real or imagined).
Being at our cabin in the South Sound with my daughter and husband.
Who was your favorite teacher and why?
My favorite teacher in med school was my internal medicine resident when I was an MS3. We were on a super busy service, but she took 5 minutes before rounds each day to teach one aspect of reading ECGs. By the end of the month I felt confident in applying this skill, and I retained what we learned in this bit by bit approach way better than the usual noon-conference PowerPoint.