Amritha Bhat is a perinatal psychiatrist and acting assistant professor in the UW Department of Psychiatry & Behavioral Sciences. Her clinical interests include integrated care, perinatal psychiatry, cultural differences in symptom presentation, and high-risk populations. Dr. ​B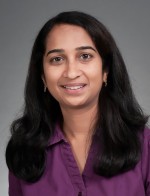 hat enjoys treating pregnant women with emotional distress issues because she knows she is able to make an impact across generations. She is attracted to Collaborative Care because of its ability to provide care to patients when and where they need it. 
What do you find most satisfying about working in integrated care?
I find it extremely satisfying that integrated care takes mental health care to settings where patients can more readily access it. I also find the team work and education that goes hand in hand with integrated care very satisfying.
From your perspective, what do you feel are the greatest successes of the Integrated Care Training Program (ICTP) to date?
Being able to modify the content and process of care to meet care teams' needs and improve reach – from training fellows, to workforce development. 
What led you to where you are today professionally?
Supportive family, love for what I do, hard work and lots of coffee!
What is the best praise or advice you've received? 
My English teacher introduced me to this quote by Rumi: "Let yourself be silently drawn by the stronger pull of what you really love." This is the best advice I've received.
Tell us about your favorite vacation.  What makes it your favorite?
Every summer vacation elementary through high school, I would spend the summer at my grandparents' home in our ancestral village and hang out with my 13 cousins – the uninterrupted chaos punctuated only by mealtimes, the complete lack of awareness of time of day or day of week – it was a liberating experience. 
What book are you reading and what do you like about it? 
Love and Other Consolation Prizes by Jamie Ford. It is historical fiction - a vivid tale of an immigrant making Seattle his home.