Carmen Croicu is an associate professor in the Department of Psychiatry & Behavioral Sciences at the University of Washington School of Medicine. Dr. Croicu is an attending psychiatrist at Harborview Medical Center consult-liaison and inpatient psychiatry services. She dedicates part of her time working as a consulting psychiatrist for the Mental Health Integration Program at the Women's Clinic at Harborview, and is one of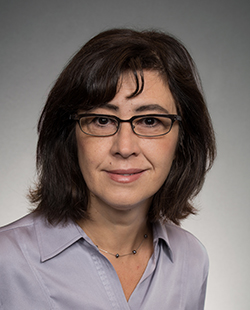 the UW faculty providing perinatal consultation in the UW perinatal psychiatry consultation line. Dr. Croicu has expertise evaluating and treating psychiatric disorders across the female life cycle, including conditions through pregnancy and the post-partum period. Dr. Croicu co-leads the perinatal curriculum development for both the fulltime Integrated Care Fellowship and the Community-Based Integrated Care Fellowship. 
What do you find most satisfying about working on the Integrated Care Training Program (ICTP)?
It has been a wonderful experience working with the ICTP team! One of the most rewarding parts of working on ICTP is the opportunity to enhance fellows' knowledge in perinatal mental health and increase awareness of the importance of recognizing and providing the best care for women struggling with mental health issues. 
From your perspective, what do you feel are the greatest successes of ICTP to date?
One of the greatest successes of ICTP is bringing together a very dedicated group of faculty and staff who support fellows through every step of their training and create an excellent fellowship didactic curriculum.
What led you to where you are today professionally?
Hard work, passion for what I do, and support from my colleagues and mentors. 
What is the best praise or advice you've received?
If you put your mind and heart to it, you can make things happen.  
Tell us about your favorite vacation. What makes it your favorite?
My favorite vacation has been relaxing on the beach in Algarve, Portugal. I love reading a book by the beach with the sound of waves in the background, enjoying a fresh catch of the day for lunch, and playing a tennis match as the sun sets!
Describe your perfect day outside of work (real or imagined).
My perfect day is waking up in the sunshine, eating a delicious omelet cooked by my husband, and spending the day playing tennis.