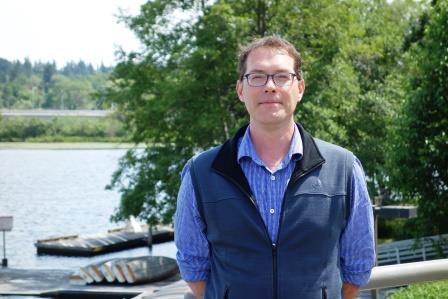 David Kopacz is an acting assistant professor in the UW Department of Psychiatry and Behavioral Sciences. He practices at the Puget Sound VA in Primary Care Mental Health Integration. He has always been interested in whole-person, holistic treatments and delivery systems, and integrated care seems like a logical extension of that work. Dr. Kopacz is board certified through the American Board of Psychiatry and Neurology as well as the American Board of Integrative & Holistic Medicine and the newly formed American Board of Integrative Medicine. He is the author of two books: Re-humanizing Medicine: A Holistic Framework for Transforming Your Self, Your Practice, and the Culture of Medicine, and Walking the Medicine Wheel: Healing Trauma & PTSD, with co-author Joseph Rael (Beautiful Painted Arrow).
What do you find most satisfying about working in integrated care or on ICTP?
I really enjoy working with all the great staff on this project!
From your perspective, what do you feel are the greatest successes of ICTP to date?
Bringing together everything into a program and having run a year of classes and clinicals is an amazing accomplishment!
What led you to where you are today professionally?
This is an interesting question as I have worked in a number of different practice settings over the years. In some ways I am where I am now because of failing a calculus class my first year of college (I intended to become an astronautical/aeronautical engineer and design spacecraft for NASA). In the ensuing crisis (I was on academic probation), I thought long and hard about what it was that I wanted to study and what I wanted to do in my life. I knew it had something to do with science, people, and nature. While I was staring off into space, I re-focused on my bookshelf in front of me. I wondered if the books I was interested in would help me to choose what I would do with my life. Two books stood out, both by psychiatrists: M. Scott Peck's The Road Less Traveled and Carl Jung's Modern Man in Search of a Soul. These two psychiatrists combined interests in spirituality, religion, art, anthropology, and personal development along with psychotherapy and biology. Psychiatry seemed like it would be a good fit, and it truly has been as I have spent time working abroad in New Zealand and have had opportunities to use psychotherapy, personal development, rehabilitation, cultural understandings, and biological psychiatry in my various roles. 
Who is the most inspirational person to you?
I have the great luck to be working with a very inspirational person – Joseph Rael (Beautiful Painted Arrow). Joseph is a Native American healer and artist, and I have had a friendship and working relationship with him for 3 years now. When I was younger, I very much wanted to work for the Indian Health Service, but that never came to pass; however, later in life I met Joseph and have been learning a great deal from him. We collaborated on a book together, Walking the Medicine Wheel: Healing Trauma & PTSD, and we are now working on a follow-up book.
Tell us about your favorite vacation. What makes it your favorite?
Western Samoa. We had a hotel that was a 10-minute walk from a marine reserve, and I went snorkeling once or twice a day!
Who was your favorite teacher and why?
Bob Molokie, a hematology/oncology doctor in Chicago, was one of my favorite mentors. When I would answer a question incorrectly, he would make up a question for which that was the correct answer, and then ask me the first question until I got it right.