Denise Chang is a clinical assistant professor in the UW Department of Psychiatry & Behavioral Sciences. She provides mental health consultation to primary care clinics through the Behavioral Health Integration Program (BHIP) and, as Associate Director of the Integrated Care Training Program, organizes the clinical rotations for the Integrated Care fellows and works on quality improvement projects within Collaborative Care. Dr. Chang has helped launch two Collaborative Care programs, one in the UW Neighborhood clinic system and one at a primary care site within UW Medicine. She believes in Collaborative Care as a means to improving access to mental health care for all patients.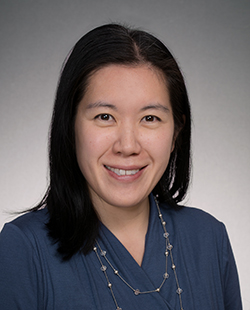 ​
What do you find most satisfying about working in integrated care?   
I really enjoy working as part of a team. In the BHIP setting, I really appreciate the close working relationship I have with my Care Coordinator and PCPs in the primary care setting. I also have realized in doing integrated care how almost everyone in the clinic has a role in providing care for the patient, including the front desk staff, the Health Navigator (an additional staff role that we have in the UW Neighborhood clinics), the MA, etc., and how we all work to provide great care for the patient. When you work with a great team like I do, you feel so proud to be a member of that team, and it is great when we are able to celebrate successful outcomes for our patients.  
What are your ideas about new programs and/or new directions the Integrated Care Training Program (ICTP) should develop? 
I would love for us to create some "sub-specialty" consultative services within our existing Collaborative Care program at the UW. For instance, if we were able to provide some specialized addiction consultation or geriatric psychiatry consultation within our more general BHIP services, I think this would allow us to help our patients gain access to these services while still maintaining the Collaborative Care model. I would also like to see us expand our Collaborative Care model to include more maternal-infant care, where we would be partnering more with OB/GYNs and pediatric services to better serve mothers, children, and families, especially around the perinatal period.
What led you to where you are today professionally? 
My path to medicine was not necessarily a straightforward one. I did some basic science lab work right out of college, and thought about going into psychology or education, but decided to upon medicine due to the wide variety of opportunities it would allow me to pursue. I am so glad I did enter into psychiatry, because I was able to still participate in teaching as well as learn more about psychology and psychotherapy.
What is the best praise or advice you've received? 
Do what you love and what you are passionate about, and that way you will never feel like you are "working."
Tell us about your favorite vacation. What makes it your favorite? 
I have traveled a fair amount in the past, and still enjoy visiting different places, but hands down my most favorite vacations have been to Hawaii. Purely because it is so relaxing, beautiful and full of opportunities for a diverse range of activities like hiking, surfing or just lazing around on a beach!
What book are you reading and what do you like about it? 
Truth be told, I am reading Positive Discipline right now. I have started this book many times but never seem to finish it. But I am determined to glean some parenting wisdom from this book, because while I am psychiatrist and deal with people's behaviors all the time I seem clueless as to how to get my children to cooperate.