Kelly Caver is a clinical psychologist who works in Primary Care Mental Health Integration (PCMHI) at the Seattle VA in the Primary Care and Women's Health clinics. Her professional interests include chronic pain, PTSD, anxiety disorders, depression, smoking cessation, telemental health, meditation, multiculturalism, supervision and training, and program development. Dr. Caver teaches on the topics of challenging clinical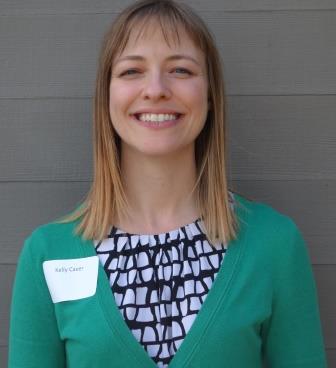 situations and chronic pain for both the fulltime Integrated Care Fellowship and the Community-Based Integrated Care Fellowship.
What do you find most satisfying about working on the Integrated Care Training Program (ICTP)?
It's hard to pick one thing! Teaching the fellows through the Integrated Care Fellowship and psychiatric practitioners through the Community-Based Integrated Care Fellowship has been satisfying because they are all so engaged in learning and enhancing the care of the patients they treat. I've loved the rich discussions about cases that we've had related to chronic pain and challenging clinic situations, both in-person and via online message board. A runner up would be getting to know and learning how to be a better educator from all the other wonderful ICTP faculty and staff who support this program!
What are your ideas about new programs and/or new directions ICTP should develop?
As a psychologist, I'd love to see ICTP expand to offering training for psychologists and therapists, particularly via community-based learning platforms. We have such expertise that would be great to offer to colleagues of other disciplines.
Who is the most inspirational person to you?
My maternal grandmother turned down an engagement to serve as a WASP (Women Airforce Service Pilot) during WWII. She later faced hardship when she was widowed when her 4 daughters were school aged, so she returned to work while juggling single motherhood. Later in life, she reconnected with the man whose engagement she had turned down as he was also now widowed, and they married and lived out their happy retirement in a home with a large garden where they frequently welcomed their children and grandchildren with beautiful meals and their Texan hospitality. She inspires me as pioneering woman who followed a sacrificial and adventurous calling as a young woman in a time when early marriages were expected, while sacrificing for her country and her family throughout her life. She created joy for herself and others despite life's hardships.
What is the best praise or advice you've received?
I recently received a VA Primary Care Service feedback form in which a Veteran I had treated who rated me highly and commented, "Train staff to become as outstanding as Dr. Caver." While I've received meaningful awards and praise from my colleagues and peers, this praise was especially touching because I care more about how I'm impacting the Veterans I treat than impressing my colleagues.
Describe your perfect day outside of work (real or imagined).
My perfect day involves waking up well rested and hiking to a beautiful alpine lake or a remote coastal beach at low tide with my partner, friends, or by myself. Ideally, the weather would be cool (but not cold) and rain free, everyone would feel invigorating physical exertion and joy, and we'd safely observe some interestingly wild life, like pikas, marmots, or mountain goats (from a distance!) on the alpine lake hike or starfish and sea urchins for the low tide coastal hike. After the hike, I'd enjoy a hot shower, a delicious meal or two and the company of loved ones, perhaps playing board games together.
What book are you reading and what do you like about it?
I'm currently reading The Artist's Way by Julia Cameron with a group of close friends. While some aspects of the 1992 book are now dated, overall it is inspiring me to continue to pursue creative work as a psychologist (e.g. writing, program development, curriculum development) and to pursue joyful and adventurous activities (like solo hiking and taking dance classes) in my personal life that feed my creativity.