Mark Duncan is an assistant professor in the UW Departments of Psychiatry and Behavioral Sciences and of Family Medicine. He practices adult general psychiatry and addiction psychiatry at the UW Outpatient Psychiatry Clinic, provides psychiatric consultation for several primary care clinics through the Mental Health Integration Program (MHIP), and co-leads the UW Psychiatry and Addictions Case Conference (UW PACC). Dr. Duncan also supervises a telepsychiatry rotation and teaches addi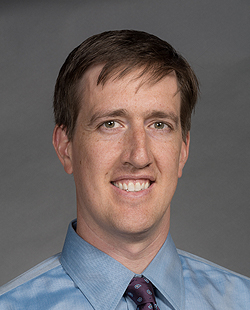 ctions didactics for the fulltime Integrated Care Fellowship and is a mentor for the Community-Based Integrated Care Fellowship. He is board certified in family medicine, general psychiatry, and addiction psychiatry.
What do you find most satisfying about working in Integrated Care or on ICTP?
I have enjoyed being able to meet providers of all types across the state through the Psychiatry and Addictions Case Conference (UW PACC). I have grown in my understanding and appreciation for their commitments to their patients and communities, despite dealing with the frustrations that come from being under-resourced. It motivates me to rise to their level of commitment in my own patient care and to work on providing a resource through PACC to help them take better care of their patients and help them deal with the stressors of clinical practice.
What are your goals for ICTP?
Expand access to quality mental health and addiction treatment. There will never be enough mental health providers for every patient with a mental health problem. But, if we can develop the skill set of the current primary care workforce at every level through programs like PACC, and be creative around improving the systems of practice for the current workforce like through Collaborative Care, that will go a long way to meeting that unmet need.  
Increasing comfort around treating addiction in an integrated fashion is also a goal of mine. While integrated addiction treatment is not going to work for everyone, there is likely a large group of patients it will work for. We need to figure out who those patients are and help clinics be confident in providing that type of care.
What led you to where you are today professionally?
As I went through my training in family medicine, I saw the need first hand for integrated mental health and addiction treatment. It has also led to a passion for helping primary care providers develop their confidence and skill in treating patients with these issues.
What is the best praise or advice you've received? 
As a family medicine resident, I remember working with a family medicine doctor who was supervising me, whom I highly respected. He commented that even after practicing for several years, he wished he still had access to supervision around his work and that we should take advantage of it when we can.  That humbleness and insight has stuck with me since, and helped me develop my own clinical curiosity and helped me admit my own limits and ask questions to get better.
Tell us about your favorite vacation. What makes it your favorite?
In general, if it is a family vacation, it becomes a favorite vacation. And the more family that is part of it, the better it is.  
Describe your perfect day outside of work (real or imagined).
Once my kids get older and I don't have to carry them, I am looking forward to taking them outside and doing something active like biking, or skiing, or going on a beautiful hike, followed by a stop at an ice cream store for a banana split on the way home.