Tanya Keeble is a clinical associate professor in the University of Washington (UW) Department of Psychiatry and Behavioral Sciences. She is also residency program director at the Providence Medical Center in Spokane, Washington where she teaches Collaborative Care to residents and medical students. Dr. Keeble completed her psychiatry residency through the UW's Psychiatry Residency Training Program. She began working on a Collaborative Care team in 2010 through the Washington ​State Mental Health Integration Program (MHIP) program where she worked as a psychiatric consultant in a Spokane community health center. In 2015, Dr. Keeble moved her focus to training residents in Collaborative Care.​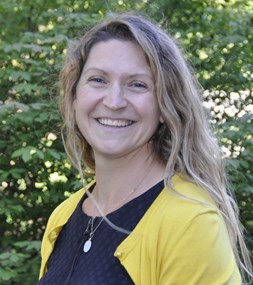 What do you find most satisfying about working in Integrated Care or on the ICTP Project?​

​It's the community! This is a fantastic group of people to be working with – so motivated and enthusiastic about providing the best teaching experience possible, and driving Collaborative Care forward. It's been a joy to teach the fellows in both integrated care and consult liaison fellowship. 

What are your ideas about new programs and/or new directions the ICTP project should develop? 

I'd love to see a formal nurse practitioner training program developed, as I think we have some experience training nurse care managers who are in active psychiatry nurse practitioner training. Currently in Spokane, we are piloting a project to train our care managers in both supportive and cognitive behavior by embedding them in resident psychotherapy seminars and supervision. I'd like to ensure that they move into the integrated care practitioner role on graduation, so that we can disseminate the model even more widely.

What is your greatest achievement?

My greatest work achievement is starting a new psychiatry residency training program in eastern Washington. I had a lot of support and practical help from great mentors, many of whom are at the UW, as well as local education leaders in Spokane. It's been challenging at times, but super rewarding to see the return of psychiatric training to Spokane. We are lucky to have an energetic group of faculty who are dedicated to teaching and training future psychiatrists for our region.

What led you to where you are today professionally?

A big influence on my decision to pursue psychiatry in the first place was my medical school (University College London), which had a pilot program for medical students who were interested in psychotherapy. We got to treat a patient for 18 months, with close supervision from a master psychotherapist. I just knew that psychiatry was the place for me as soon as I started that program. I also have a brother who died from suicide so from a personal perspective, it's been important to me to do whatever I can to stop other families going through the loss of someone they love.

What is the best praise or advice you've received?

The most helpful advice I've received has been to leave the send button alone and put an email with emotional content in the draft folder for at least 24 hours.

Describe your perfect day outside of work (real or imagined).

At this time of the year, it is cross-country skiing at Mount Spokane. I love the peace and quiet out there in the wilderness. It's only occasionally that I imagine a cougar creeping up to snack on me……

What book are you reading and what do you like about it? 

Right now I'm reading The Best Medicine: A Physician's Guide to Effective Leadership by Bruce Gewertz and Dave Logan. It's a quick read and has helped me understand the phase of leadership I am in, as well as think about what my strengths and weaknesses are in this area of my work. Being a leader is new to me, and I've definitely made mistakes, but I'm learning.